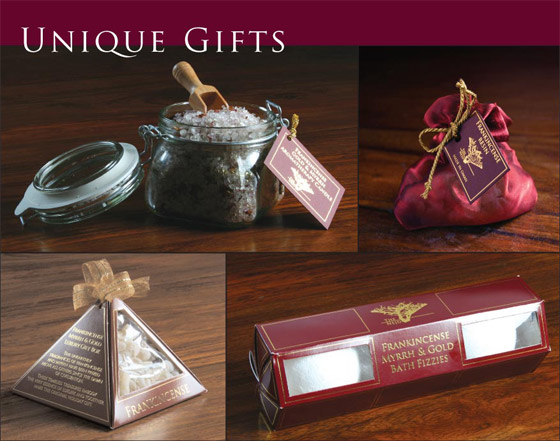 Frankincense and myrrh, along with gold are the original Christmas gifts presented by The Three Wise Men. The Nejd blends the traditional with the contemporary to create timeless gifts that can be given on any occasion.
The Nejd offers a unique range of gift items using pure frankincense and myrrh resins and essential oils – perfect as souvenirs, gifts or as pillow token for guests.
Frankincense, Myrrh & Gold
Bath Salts
FMG-1000
Frankincense sachet 50g
FMG-1050
Frankincense, Myrrh & Gold
Resin Pyramid
FMG-1200
Frankincense, Myrrh & Gold
Bath Fizzies (3 x 100g)
FMG-1300
Give a unique gift, whatever the season.
The Nejd is happy to produce bespoke and exclusive lines for clients under their own brand names.
Please contact us for further information.